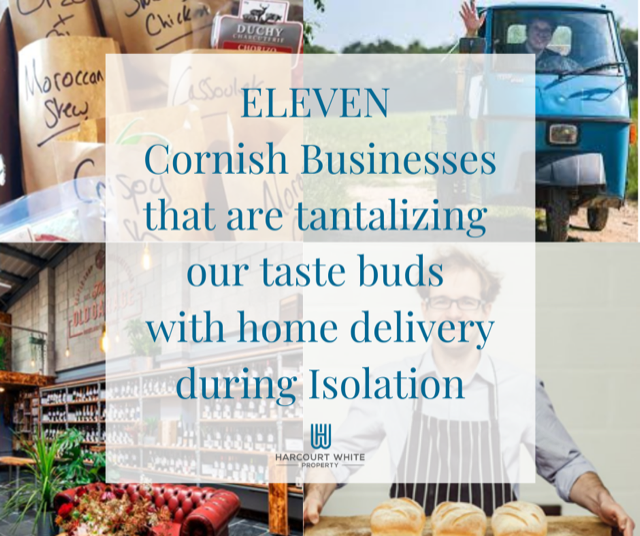 Check out the below list… hopefully it gives you a bit of inspiration on where you can stock up on some delicious local Cornish produce. During times like this it's important to support local businesses. We want to say a massive thankyou to all the businesses working so hard in Cornwall making sure that individuals who are isolating get the necessities they need. Without all your help this time would be even more difficult than it already is.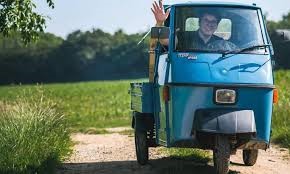 TiramisUGO
If you have checked out our Facebook Page, then you will know that we rave about TiramisUGO and so do many other people in Cornwall. They are famously known for their delicious tiramisu and we can clarify that for you- it is out of this world. The recipe combines the best of both worlds with Italian Coffee; Mascarpone Cheese, Vicenzi Savoiardi and Cornish eggs from St Ewe. They are offering a home delivery service that covers Truro to Penzance and Truro to Wadebridge. Don't be under the misconception that this is a takeaway service, TiramisUGO has taken it a level up and is offering a ready meal service that comes in 3 items; the pasta, a mix of grissini and the tiramisu. If you're looking to indulge this lockdown or spice up your week then TiramisUGO is the way to go! Date night – they've got you covered!
Website: https://www.mytiramisugo.com/
Facebook: https://www.facebook.com/tiramisugoofficial
Instagram: https://www.instagram.com/tiramisu.ugo/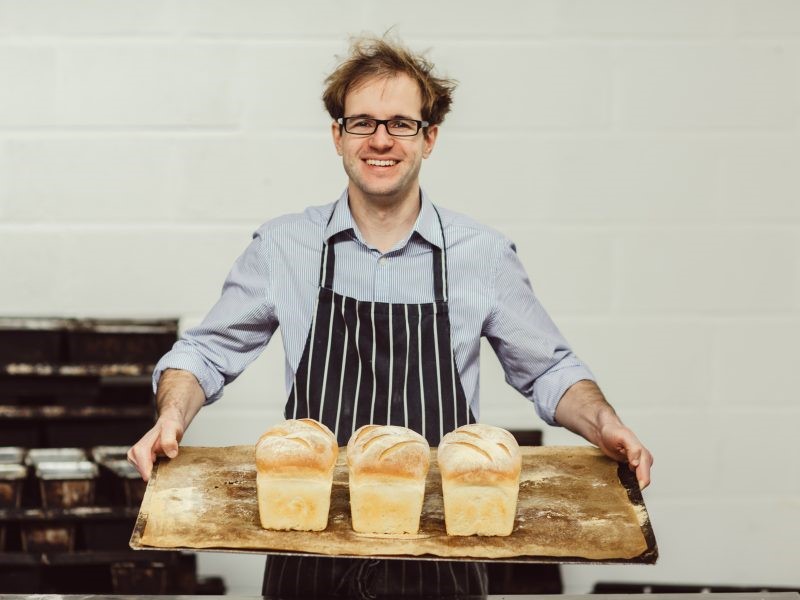 Baker Tom
If you're not already familiar with Baker Tom, then let us enlighten you! Baker Tom blessed Cornwall 10 years ago when he baked a couple of fresh loaves and they all sold out in his local farm shop. The rest was history. Now with two cafes and five shops Baker Tom's success is something to marvel at. Whilst you may not be able to go out to one of his shops or cafes and purchase a scrummy loaf, Baker Tom has two other options for you. One of which is a mobile bread van which focuses "on small communities who may not have access to the shop for fresh bread" the other of which is a freshly baked bread box delivered to your door!
Website: https://www.bakertom.co.uk/
Facebook: https://www.facebook.com/bakertoms/
Instagram: https://www.instagram.com/bakertomsbread/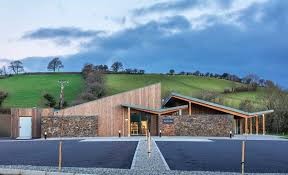 Trepolandpen
Tre Pol & Pen is a hidden gem nestled on a hill in Lezant. They have a wide variety of produce available from freshly baked artisan bread to local cheeses, finest cuts of red ruby beef and everything in between. They are offering a home delivery service to customers within a 5 mile radius of the shop for orders over £20.00 during this outbreak of Coronavirus (COVID-19). If that doesn't work for you then they are also offering a call and collect from the store or car park service for your shopping.
Website: https://trepolandpen.co.uk/pages/about
Facebook: https://www.facebook.com/trepolpen/
Instagram: https://www.instagram.com/trepolandpen/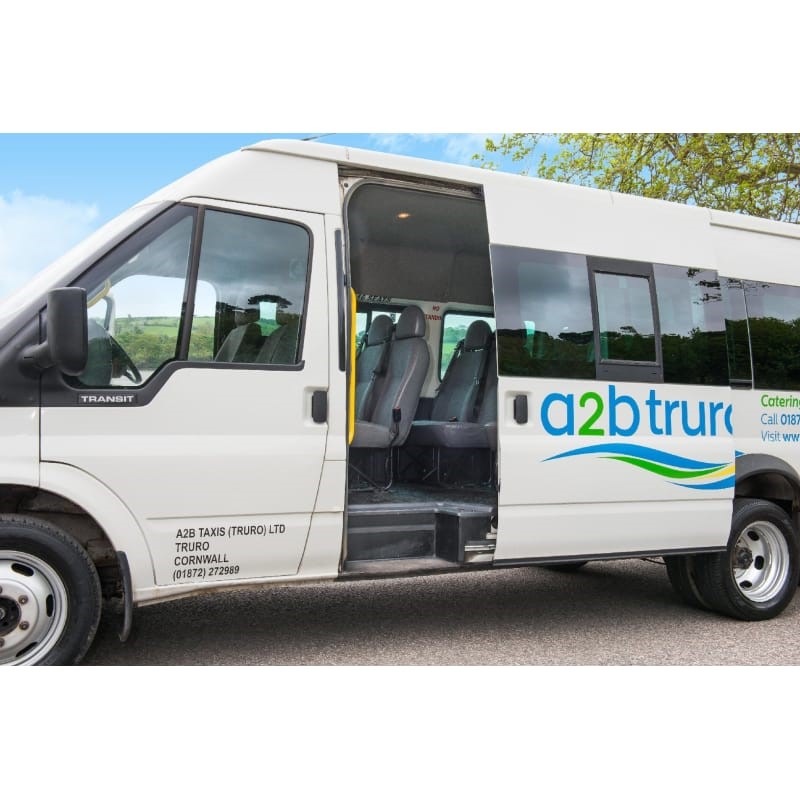 A2B Taxis
The whole team at A2B taxis are doing their upmost to support those in the community who are unable to go out food shopping. They are offering a food collection services from your favourite store right to your door!
Website: https://www.a2btaxistruro.com/
Facebook: https://www.facebook.com/a2btaxisTruroFalmouth/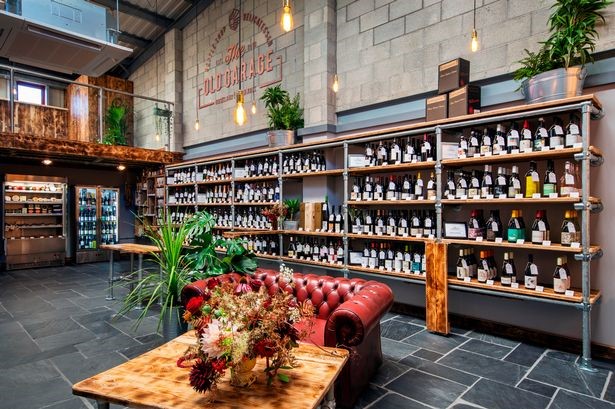 The Old Garage Wine & Deli
We may all be isolating but that doesn't mean we don't need our weekly therapy…wine! For you wine lovers out there don't despair the Old Garage Wine and Deli is offering a home delivery service of your favourite bottles right to your door! If you're not so crazy about Chardonnay, then check out their delicatessen section. They are offering home delivery on this too so there is something for everyone!
Website: https://www.theoldgarage.co.uk/delivery.html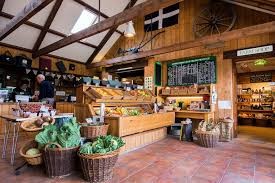 Lobbs Farm Shop
During these uncertain times Lobbs Farm Shop are doing their best to satisfy everyone. They have in place several services to keep everyone safe, from home delivery to personalised shopping. At Lobbs they are very aware of the struggles people will be facing at this time and that is why they encourage individuals to make use of their homemade frozen ready meals. Whether you have a sweet or a savoury tooth you are sure to find a frozen meal that you love!
Website: https://lobbsfarmshop.com/coronavirus/
Facebook: https://www.facebook.com/lobbsfarmshop/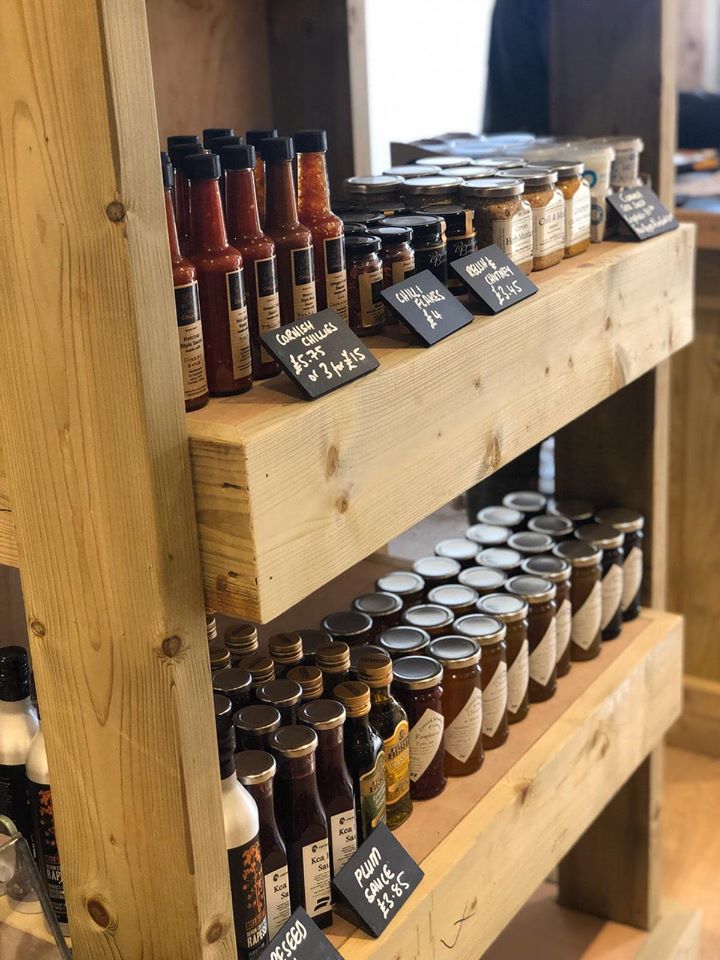 Fowey Farm Shop
Fowey Farm Shop has mouth-watering food that is sure to get your taste buds tingling! They are also offering a milk round for all of those who can't get to the shop. Not only that but their milk will be delivered in glass bottles which is far better for the environment, reducing their plastic waste. You can check out their Facebook page for updates on their delivery services and stock they have coming in!
Facebook: https://www.facebook.com/foweyfarmshop/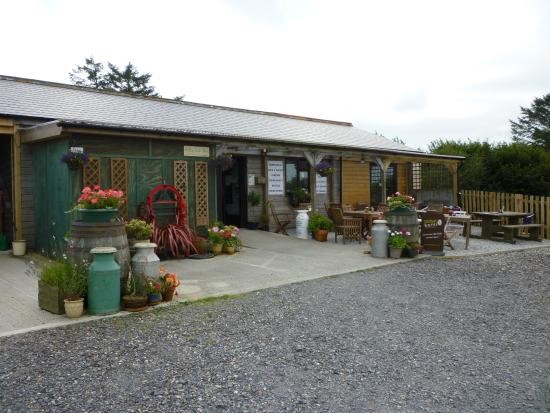 Hilltop Farmshop
Hilltop Farm shop have made the decision for the health and safety of its customers and employees to stop store browsing and takeaway. They are however offering an order and collect service and a home delivery service. Due to such high demand their home delivery slots are limited but if you get one then it is well worth it!
Website: http://www.hilltopfarmshop.co.uk/
Facebook: https://www.facebook.com/HilltopFarmShopcornwall/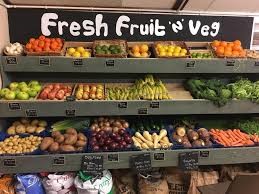 Horizon Farm Shop
Horizon farm shop are working extremely hard to stock their shelves. They have a variety of products available and they even have veg and flower plants to brighten up your garden! Perfect for those of you who live in or around Liskard! They offer a home delivery service which is also very popular. Check out their Facebook page for more information.
Facebook: https://www.facebook.com/pages/category/Shopping—Retail/Horizon-Farm-Shop-and-General-Store-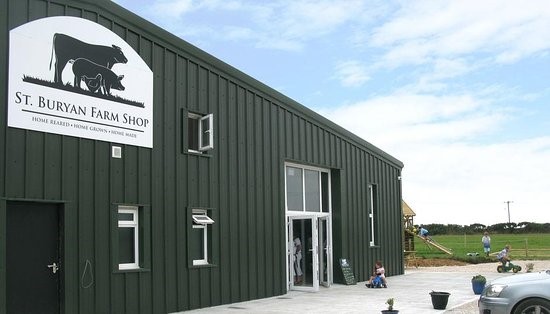 St Buryan Farm Shop
St Buryan Farm shop is a family run shop near St Buryan. They are doing everything they can to help the people of Cornwall in this time of need. You have two options, either opt for their click and collect service which you can pick up in their store car park or chose to have their home delivery service. They have a large product list for you to choose from with a range of fruit and veg, fresh meats, dried goods and so much more!
Website: https://stburyanfarmshop.co.uk/
Facebook: https://www.facebook.com/stburyanfarmshop/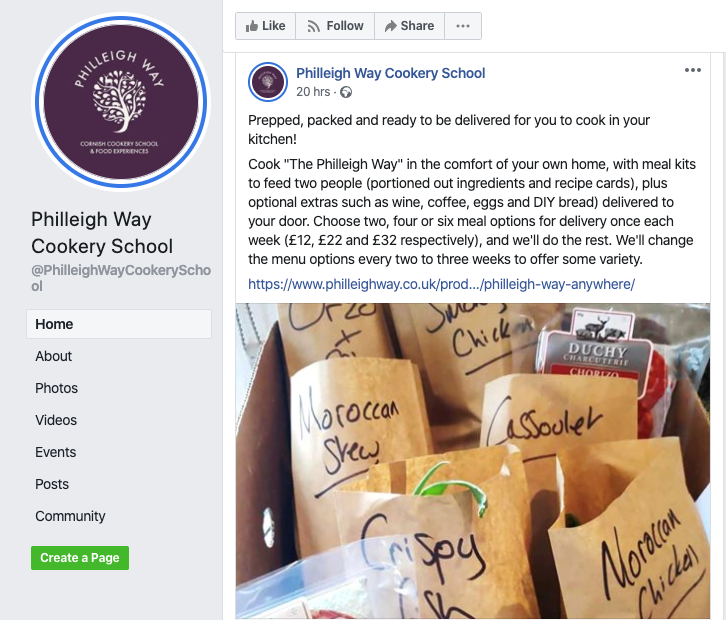 Philleigh Way Cookery School
Offering meal kits… bit like Hello Fresh, but Cornish !
Prepped, packed and ready to be delivered for you to cook in your kitchen!
Meal kits to feed two people (portioned out ingredients and recipe cards), plus optional extras such as wine, coffee, eggs and DIY bread) delivered to your door. Choose two, four or six meal options for delivery once each week (£12, £22 and £32 respectively). They change the menu options every two to three weeks to offer some variety.
Website: https://www.philleighway.co.uk/prod…/philleigh-way-anywhere/
Facebook: https://www.facebook.com/PhilleighWayCookerySchool/